The history of clothing in India dates back to ancient times, yet fashion is a new industry, as it was the traditional Indian clothing with regional variations, be it the sari, ghagra choli or dhoti, that remained popular until the early decades of post-independence India.
The earliest representations of women show them with minimal clothing. In sculptures from the Maury and Sunga periods (about 300 BC) – men and women wore rectangular pieces of fabric, on the lower part of the body and one on the upper part. Little else.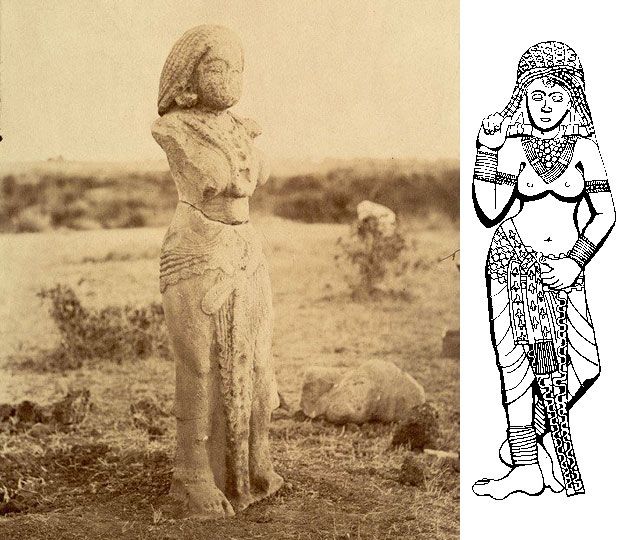 Images from the Gupta period – about the 7th or 8th Century – show stitched upper garments along with a breast band, as well as a lower garment.
Modesty has had different definitions over time and in different regions and communities. It was not always about covering your face and body and in many respects India's hot climate led the way. People just did what was convenient.
But the regional variations are interesting. In southern India, even in colonial times, some women did not cover the upper part of their body. And throughout India's history of contact with different cultures – with Greek, Roman, Arab and Chinese influences coming in – fashions and ideas began to change.
In the 15th Century we see Muslim and Hindu women wearing different outfits and the influence of the Mughal empire was decisive – they ruled most of India and Pakistan in the 16th and 17th Centuries. I have not seen written codes about how to dress, but Muslim women normally covered themselves and wore divided garments. These outfits gave birth to garments like the salwar kameez – virtually seen as a national dress in India today.



Image copyright 

AUGUSTE RACINET
In Bengal, in the Victorian era, some women did not wear blouses under their saris – they went bare-breasted. This did not suit Victorian society, which had its own ideas of propriety, and blouses increasingly became the norm.



Image copyright

BRITISH LIBRARY BOARD, PHOTO 124/(36)
It was Jnanadanandini Debi, the wife of Satyendranath Tagore – brother of the famous Bengali poet Rabindranath Tagore – who popularised the blouses, jackets and chemises and the modern style of the sari today after she was reportedly refused entry to clubs under the Raj for wearing the sari fabric over her bare breasts. Tagore is believed to have actively encouraged his wife to adopt Western ideas.
The terms "blouse" and "petticoat" – both English – made the leap into Indian vocabulary in the Victorian era. Shirts also came to be worn under the sari as part of high fashion and these rather British innovations are considered traditional garments.
The British influence only became stronger over time. We see different kinds of blouses coming in with sleeve structures, and various necklines.



Image copyright

© THE BRITISH LIBRARY BOARD, PHOTO 1000/46(4641)
In India, unlike in Britain, there are no written codes of conduct or sumptuous laws about what should be worn. What was considered suitable was spread through word of mouth. So today's guardians of the hemline – who no doubt believe they are safeguarding women by prescribing what women should wear – are following in the footsteps of older political overlords. Indian women now are much freer to do what they want, at least in the cities, yet we see dress codes being set and women condemned for what they wear.
Subscribe to the BBC News Magazine's email newsletter to get articles sent to your inbox.
Cotton sarees are the most comfortable ones and are worn by ladies in summers.
When it is worn by working ladies with crisp starch, they magnify its classiness to the zenith level.
Silk sarees can be easily draped because of its soft fabric but Banarsi sarees are little difficult because of their massive stuff.
While getting married in India, every lady is definitely blessed with at least one Banarsi Saree as it is considered as auspicious. Its beauty lies in the sparkling glitters equipped with silver or golden carving of borders.
So What is a Saree?
A saree is a piece of cloth between 5 and 9 meters. It is worn traditionally by all Indian women — and has a great cultural significance. Said to be one of the most graceful dress of women, it elegantly covers the woman's entire body by showing genuine curves in the most dignified way. No other dress is as competent as the saree. A woman in India looks absolutely complete when draped in a saree, and equipped with beautiful ornaments and a shimmering bindi on the centre of her forehead.
Goddesses in Indian religions have been adorned with sarees. Infact, sarees are even considered as a sacrificial offering to many goddesses.
Its Significance
The real significance of the saree lies in the management of such a huge piece of cloth in an aristocrat way. Sarees are usually linked with the managing abilities of a woman, just like how she manages so many important or trivial chores in a perfect fashion while being at it. Women look most refined, polished, charming, and lovely while performing their chores while at the same time, creating a harmony wherever they are.
Now days, the meaning of saree has been changed as it is more related with showing skin than concealing a woman's body. Earlier it was worn to hide the waist but now screening the waist line has become important to look gorgeous. The lady is considered as more dazzling and striking when she wears the saree in such a fashion.
In India, pallav (a part of the saree) is drawn on the head to pay due respect to the elders or while attending ceremonies. Even today, in the interior parts of India, it is mandatory for a lady to cover her face, so that no other person except her husband can have a glimpse of her beauty.
Sarees & Today
India hasn't been immune to the western influence & culture. It would not be wrong to state that western dresses have indeed penetrated into the Indian culture to a huge extent. However, the importance of the saree cannot be denied as it is matchless. With the transformation of time, many Indian women have followed western trends and they wear jeans, capri, and skirts on a regular basis. But when it comes to cultural festivals, sarees is the way to go.
A scene from the 1857 Indian rebellion against the British. India has a long history of invasions, conquets by foreign rulers & conflicts. But there is one thing has been held as a constant despite all — and that is the Indian saree..
Is the sari or saree the most beautiful feminine style of dress?
Hey… it's true that saree is the most loving and beautiful feminine style of Indian women dresses. It explores the beauty of Indian tradition in a so loved styles and trends. Every woman would love to clad in this loving dress...says Swati Sharma, Madly fashion adict.
Sari, as we know is untailored length of cloth. Also stands for purity because it was felt that cloth cut and pierced by needles was impure. Even the "dhoti" that Indian Men wore and still few people wear it but now it's usage has been reduced only to wedding and other such occasions is also considered "pure". But the use of Dhoti has gone down because of the fast paced life these days and that kind of dressing doesn't fit in.  In spite of that, Sari still lives and prospers mostly because it has been able to adapt to every age. It has a quality of inter mixing with every era.
Final Notes
Remember, sarees have a beautiful history behind them. If you're thinking of wearing one, the benefits are many — but it's not easy. Sarees do take a little extra time to be draped but it has a matchless comparison when it comes to beauty, as they are the replica of the rich Indian heritage. And there is so much of creative stuffs that you can have with Sari. You can wear it in so many ways that it can never get old
5 Different Ways of Wearing Saree For Wedding to Look Slim & Tall |Tips & Ideas to Drape Saree Pallu