My mother always had an equivalent and effective remedies for almost any hair and skin problems that comes directly from the kitchen with unique cause and effect of beauty in a more natural way – says Swetha.
Most kitchens of Indian family is not complete without its jars of roasted and fresh spices that adds spices and soul to the dishes prepared in that kitchen. However, apart from using those spices for cooking, you might know that they make for fabulous beauty ingredients as well. Making a natural beauty product using these selected Indian spices that can improve the texture of your skin, fight acne and make your hair stronger. Here are some Indian spices you can try that help enhance your beauty – naturally!
In the list, the number one spice is turmeric. Since thousands of years, turmeric has been used as an attempted treatment for a variety of internal disorders, such as indigestion, throat infections, common colds, or liver ailments, as well as typically, to cleanse wounds or treat skin sores. Turmeric is considered auspicious and holy in India and has been used in various Hindu ceremonies for millennia. It remains popular in India for wedding and religious ceremonies.
Curcumin and other chemicals in turmeric might decrease swelling (inflammation). Because of this, turmeric might be beneficial for treating conditions that involve inflammation.
Keep The Wrinkles Away With Turmeric
Turmeric is packed with anti-aging, anti septic and antibiotic properties that could have positive impact on the skin. While it improves skin complexion, it also keeps the fine lines at bay.
Step 1 – Take a spoonful of turmeric powder and drop it into a bowl.
Step 2 – Now, add one tablespoon of honey into the bowl and mix it with the turmeric till it turns into a thick paste.
Step 3 – You can use a brush or your fingers to apply it on your face, arms and legs.
Step 4 – Let it sit for 15-20 minutes and wash it off with cold water.
Next comes Ginger, the natural spice that produces a hot, fragrant kitchen spice. Young ginger rhizomes are juicy and fleshy with a very mild taste. They are often pickled in vinegar or sherry as a snack or cooked as an ingredient in many dishes.
In Indian cuisine, ginger is a key ingredient, especially in thicker gravys, as well as in many other dishes, both vegetarian and meat-based. Ginger also has a role in traditional Ayurvedic medicine. Ginger has a sialagogue action, stimulating the production of saliva, which makes swallowing easier.
Fight blemishes with ginger
Skin blemishes and annoying sun tan are a few things we want to know how to get rid of quickly! While you may think the salon lady has the answer, you're mistaken – you just need ginger in your life, girl. Ginger can help rejuvenate your skin and improve your complexion.
Step 1 – Grate one stick of ginger and pour its shavings into a bowl.
Step 2 – Now, pour a tablespoon of honey and a teaspoon of lemon juice into the bowl.
Step 3 – Mix all the ingredients well and apply it directly to your face.
Step 4 – Spread the gooey liquid all over your face, and give your skin a good massage.
Step 5 – After 5 minutes, wash it off with lukewarm water.
Garlic is a spice herb also known as Ail, Ajo, Allii Sativi Bulbus, Allium, Allium sativum, Camphor of the Poor, Da Suan, Lasun, Lasuna, Nectar of the Gods, Poor Man's Treacle, Rason, Rust Treacle, or Stinking Rose. There is something irresistible about the aroma of roasted garlic. It is so captivating with its powerful notes, that it has long been used as a flavour booster in Indian curries, stir-fries, pizza toppings, pastas and mostly Indian meat preparations.
Every 100 grams of garlic will serve you with close to 150 calories, 33 grams of carbs, 6.36 grams of protein. Garlic is also enriched with Vitamin B1, B2, B3, B6, folate, Vitamin C, calcium, iron, magnesium, manganese, phosphorous, potassium, sodium and zinc.
Garlic to prevent Hair loss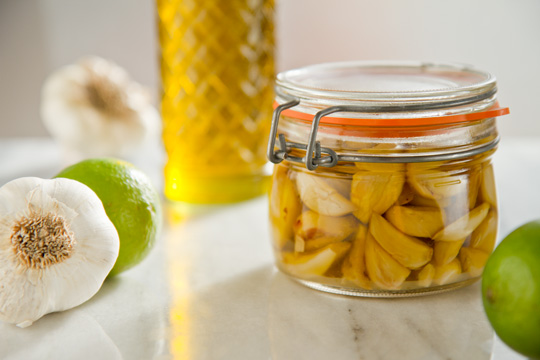 Is your hair starting to look dull and feel brittle? If it is, you've got try using garlic. You see, garlic pods as tiny as they are, they're packed with vitamin C and amino acids which help re-energize hair follicles and repair hair damage. All of us know about the wonders of onion for hair but its brother, garlic is no less of a hero for your thinning mane. Well, its surprise time. Rubbing crushed garlic extract on your scalp or massaging with garlic-infused oil is known to prevent and even reverse hair loss.
Step 1 – Take a handful of garlic pods and dip them into a bowl of olive oil.
Step 2 – Leave them to soak in the oil for a week.
Step 3 – After a week, you can discard the pods and use the oil for your hair.
Step 4 – Heat the oil for a couple of seconds, and apply it on your scalp and give yourself a good head massage
Step 5 – Let it stay on your hair for about 5-8 minutes and then wash it off with lukewarm water.
Indigenous to India, pepper, rightly called the King of Spices, is one of the oldest and best-known spices in the world. India has always reigned supreme in the production and export of this most exotic and sought-after spice Pepper. Indian pepper had a profound influence on the European economy of the middle Ages.
Black pepper is mentioned in the classical texts of Ayurveda, the ancient Indian System of Medicine and also in Jammu, the traditional Indonesian Medical System. The Africans believe that pepper causes the body to emit an odour which repels mosquitoes.
ABOLISH Acne WITH BLACK PEPPER
Black peppers are great for skin exfoliation. It loosens pores, clears acne, removes blackheads and scrubs away oil and bacteria.
Step 1 – Make a paste using a teaspoon of black pepper powder and chilled yogurt.
Step 2 – Gently apply it over your pores and acne using your fingertips.
Step 3 – Wait till the mask hardens and wash it off with cold water after 10 minutes.
In India coriander is known as dhanya or dhanyaka, which means "the rich one". It deserves its name because of its many
culinary and medicinal uses. Coriander is an amazing herb that is used for culinary and medicinal purposes. From the oldest times it is known in the Mediterranean region, Africa and the Middle East, central Asia, India and China.
The nutritional profile of coriander seeds is different from the fresh stems or leaves. Leaves are particularly rich in vitamin A, vitamin C and vitamin K, with moderate content of dietary minerals. Although seeds generally have lower content of vitamins, they do provide significant amounts of dietary fiber, calcium, selenium, iron, magnesium and manganese.
CLEAR UP YOUR EYES WITH Coriander Seeds
For bright and healthy eyes, coriander seeds is what you need. They contains antibacterial and antioxidant properties that help reduce itchiness and redness of the eyes. It also cures tired and puffy eyes.
Step 1 – Pour a tablespoon of coriander seeds into a glass of water and leave it overnight to soak.
Step 2 – The next morning, use the water as eye drops.
Step 3 – Keep it on for half a second and wipe it off with a damp hand towel.
Though its source was kept mysterious in the Mediterranean world for centuries by the middlemen who handled the spice trade, to protect their monopoly as suppliers, cinnamon is native to India, Sri Lanka, Bangladesh , and Myanmar.
Research shows that people with type 2 diabetes, metabolic syndrome, and women who have insulin resistance as a result of polycystic ovarian syndrome, may stand to gain by incorporating one to six grams of cinnamon daily into their diet. The naturally occurring polyphenols in cinnamon affect multiple factors relating to blood sugar and insulin function.
PLUMP YOUR Lips With Cinnamon
Dry lips are due to poor blood circulation. Daily usage of cinnamon as a beauty ingredient helps speed it up blood circulation. The heating effect of cinnamon helps push the blood to your skin and gives it a radiant look. This will benefit you immensely if you chapped and dull lips.
Step 1 – Crush two big sticks of cinnamon till it turns to powder.
Step 2 – Mix it with your lip scrub or Vaseline and apply it on your lips.
Step 3 – Leave it on for half an minute and wash it off with lukewarm water.
Cloves have a warm, woody aroma and have a sweet yet spicy taste. Cloves are quite a strong, fragrant spice so you only need one or two to impart a good amount of its flavor to Indian culinary. The active principles in the clove are known to have antioxidant, antiseptic, local anesthetic, anti-inflammatory, warm and soothing anti-flatulent properties.
The spice contains health benefiting essential oils such as eugenol. It is a phenylpropanoids class of chemical compound which gives pleasant, sweet aromatic fragrances to the clove-bud. Eugenol has local anesthetic and antiseptic properties, hence; useful in dental care essentials as well as in treatment procedures.
SANITIZE YOUR SKIN WITH CLOVES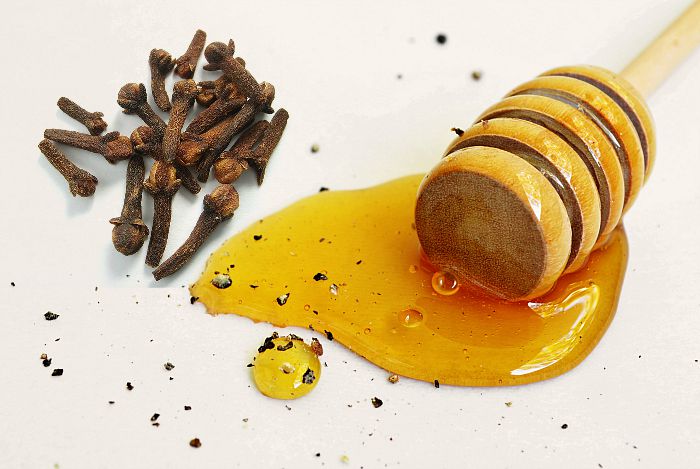 No Indian dish is complete without adding cloves to it. However, the same can be done for your beauty regime. This dried spice contains eugenol and antiseptic properties that heal skin, fight bacteria and remove blemish marks.
Step 1 – Crush a couple of cloves and pour its powder into a tiny container.
Step 2 – Add a tablespoon of honey and a couple of drops of freshly squeezed lemon juice.
Step 3 – Mix all the ingredients well and apply it to your face.
Step 4 – Leave it on for about 5 minutes and wash it off with lukewarm water.
HAVE A STORY OR IDEA? WRITE TO US.